The Ultimate Checklist for Moving Your Home
When it comes time to move to a new home, having a comprehensive moving checklist is an absolute necessity. The moving list below provides a step-by-step guide to make sure that you don't miss anything while you prepare for moving day.
Six Months Before Your Move:
Download our printable moving checklist with items you can mark off. Refer back to this to do list for moving often.
Research moving companies in your area. Create a moving list of all the potential companies that might work for you.
Look up customer reviews and other information for each moving company. Cross companies off your moving checklist for Alberta until there are only a few left on your moving planner.
Get quotes from each remaining moving company and note them on your moving checklist.
Schedule a meeting with the moving company of your choice. Bring your moving checklist with you.
Read all documentation thoroughly and make sure you understand it before signing anything.
Verify your moving company's license and insurance before making a final commitment.
Use advice from your moving company to fill your printable moving checklist for Canada. This moving checklist will serve as an important guide for later.
Four Months Before Your Move:
Sell or dispose of large objects that don't have a place in your new home. Note their method of removal on your moving checklist for future reference.
Think about how to move large furniture and other difficult items. Add extra packing material to your moving checklist if needed.
Prepare a budget spreadsheet where you can list all costs incurred during your move. Note the location of this spreadsheet on your moving planner. Cloud-based storage with an easy to remember name like "Moving Checklist Canada.PDF" is a good way to go.
Provide your family and any friends involved in the move with a printable moving checklist. They can refer back to this moving list to make sure everybody's on the same page.
If you have children, check information about local schools and daycares in the new neighborhood you will be moving into. You don't have to make a decision just yet, but it will be useful to keep with your moving house checklist.
Three Months Before Your Move:
Schedule a walkthrough of your home with your moving company. Double-check your moving house checklist with them to make sure you have everything you need.
If possible, schedule a walkthrough of your new space with your moving company. Again, bring your moving checklist with you for reference.
If your new residence is local, begin taking rides through the area once or twice a month to familiarize yourself with notable landmarks. Make a note of these on your moving home checklist for reference and ease of navigation.
List out all your utility companies as part of your relocation checklist. Update them on your future move. If any do not provide service in your new area, note that on your moving checklist.
Research new utility companies to replace the ones you had to remove from your moving checklist. Contact these companies to set up new service.
Two Months Before Your Move:
Get rid of anything you don't plan to bring on your move. Note any expensive items and what you did with them on your moving checklist for future reference.
Make sure that you have boxes, tape, packing paper, and bubble wrap. Your moving company should be able to provide most of these materials. Note any unusually-shaped items on your moving list so you can plan appropriately.
Make sure that you have permission to park outside your current and future moving residence for at least four hours. Note contact numbers for each residence on your moving checklist.
Note any expensive or irreplaceable items on your moving checklist. Make sure that you get these items insured.
Distribute updated copies of your printable moving checklist in Canada to anybody involved in the move. Continue providing updated copies on a regular basis.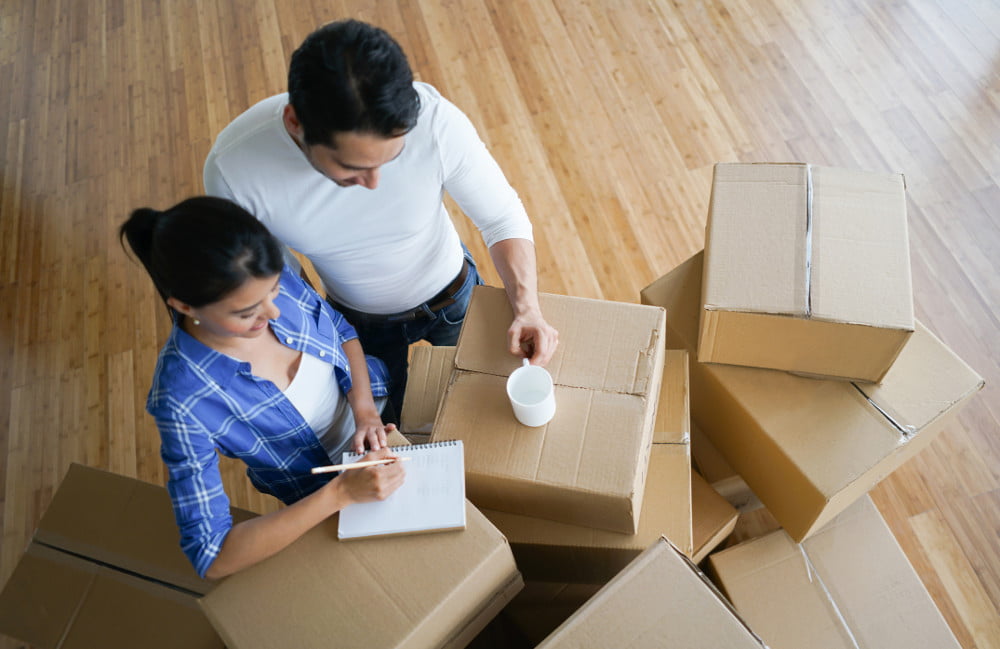 One Month Before Your Move:
Designate a room or space where you can put your packed boxes prior to moving day. If you don't have the space, consider adding a storage space rental to your moving checklist.
Create brightly-colored labels that allow you to identify boxes by type or location at a glance, even before you read the label.
Make a note on your moving house checklist of which items are essential to your day-to-day functions in your current home. Start packing anything that isn't essential.
Photograph your furniture and expensive items. This will allow you to compare their final condition to what you see here. Save these photographs in a safe place, preferably with your moving house checklist and budget spreadsheet.
Drain fluids from any machinery that you plan to move but that you don't intend to use for the next few weeks.
Create a folder of box with warranty information and user manuals for your electronics. If any items do not have these manuals, note this on your moving checklist so you can keep an eye out for them in the future.
Request time off from your employer for the move. If you can schedule your move for a Friday, this gives you a long weekend to unpack.
Fix any minor damage around your current home, especially if you are renting and need your security deposit back.
Make sure that the vehicle you will be traveling in on moving day is properly serviced, especially if you are moving long distance.
Start packing in earnest. As you move down your moving home checklist, you should have fewer and fewer items to box up as moving day draws near.
Make a list of doctors in your new area that might serve your family in the future. Keep this with your moving checklist for Alberta and check names off as you do more research on them.
Contact your existing doctors and dentists to get complete medical records for both you and your family. Keep this information securely stored for the future.
Two Weeks Before Your Move:
Pack up all your pictures and wall hangings.
Gather together your loose electronics and pack them up. Make sure to include all power cords.
Pack up all seasonal equipment and clothing that you won't need before your move.
Next on the moving checklist, contact the local postal service and make sure that your mail will be forwarded to your new address.
Make a list of any periodicals that you are subscribed to on your moving house checklist. Contact each of them to make sure that your address is up to date, checking them off your relocation checklist as you do so.
Plan some time to relax so you aren't too focused on your moving house checklist. Make some time with your friends and loved ones, especially if you will be moving a long way away.
If moving long distance, look into hotels that might serve as a fallback spot should something prevent you from moving into your new location right away.
If you have young children and are moving a relatively short distance away, arrange childcare for them on the day of your move. That way they won't get bored during the packing process and you won't have an extra distraction.
Fill any prescription medications so you have enough medicine for the first couple of weeks in your new home.
The Week of Your Move:
Pack all fragile and expensive items carefully. Keep an inventory of your precious belongings with your moving home checklist, so you have something to refer to if anything goes missing.
Use clothing and towels to pad dishes and fragile objects when placing them in boxes.
Collect passports, birth certificates, and other important documentation. Keep these items in a safe place during your move.
Return any video rentals, library books, or other items that you don't own and that will accrue late charges if you don't get them back in time.
Finish all your packing – make sure to label all your boxes as clearly as possible.
Pack a day pack full of necessities such as toothbrushes, an alarm clock, and a change of clothes. If the move takes longer than expected or something goes wrong, this ensures that you have the supplies you need to get through one or two nights without the rest of your belongings.
Create a moving playlist that you can use to keep yourself entertained on the day of the move.
The Day of the Move:
Communicate with your moving company as they arrive and make sure to highlight any items that they need to be extra careful with during the move.
Make sure that somebody else, preferably someone with your moving checklist, knows your route and can check in with you in case you don't reach your destination on time.
Relax and enjoy the move!
Your belongings will arrive in the same condition as they left.
We stand by our estimate.
We will respect your property - all our staff take great care not to damage walls, door frames or floors.
We'll be there on time.